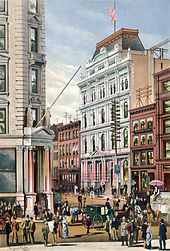 New York Stock Exchange; 1882
Below is an extract of a cease and desist letter mailed to TPM Media LLC (dba TPMMuckracker) regarding its writing about the NYSE and using a photo depicting the exchange.  A full summary can be read on Reuter's blog,
Felix Salmon: A slice of lime in the soda
or at
Wired.com
.  
NYSE has common law and Federal trademark rights in and to NYSE's name and images of the Trading Floor… Moreover, NYSE owns Federal Trademark rights in one depiction of the Trading Floor and common law rights in the Trading Floor viewed from virtually any angle (collectively, "Trademarks"). Accordingly, NYSE has the right to prevent unauthorized use of its Trademarks and reference to NYSE by others.
Apparently somebody is using NYSE letterhead and signing Chief Counsel Kendra Goldenberg's name to stupid letters (
below is a public domain copy found on the Internet archives
):