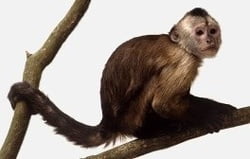 Brown Capuchin Monkey
Comedians from the
National Bureau of Economic Research
(NBER) have hedge fund traders and financial bloggers snickering, including this must-read example at
Mish's Global Economic Trend Analysis
.
Some of their economic positions as committee members at NBER are highlighted in this Bloomberg article and summarized below:
In April 2010, issued a statement that it was too soon to conclude the end of the recession that began December 2007 (read: a recovery has yet to occur)
This weekend in Jackson Hole, Wyoming, stated there is between 5% and 33% chance of a double dip recession (question: doesn't a double dip recession necessitate an end of the first recession and a subsequent recovery?)
Forecasts 2011 second quarter GDP growth of 1.1% (question: what is their forecast of third quarter and fourth quarter 2010 GDP growth?)
Perhaps the NBER should take note
regarding the hot seats
on which several financial and economic advisors sit (e.g. Treasury Secretary Geithner; current and outgoing members of the Council of Economic Advisers in the Obama Administration, Summers and Romer, respectively).
Or, better yet, just hire a few brown capuchin monkeys from Associate Professor Laurie Santos, who runs the Comparative Cognition Laboratory at Yale University. 
Just saying.

——————————————————- Further resources:
●  "Laurie R. Santos, Yale Psychology Faculty." Yale University. July 2010. Web. https://www.yale.edu/psychology/FacInfo/Santos.html.
●  Laurie Santos: A Monkey Economy as Irrational as Ours | Video on TED.com. TED: Ideas worth Spreading. July 2010. Web. https://www.ted.com/talks/laurie_santos.html.
●  Markey, Sean. "Monkey Research: Monkeys Show Sense of Justice." National Geographic News, 17 Sept. 2003. Web. https://news.nationalgeographic.com/news/2003/09/0917_030917_monkeyfairness.html.