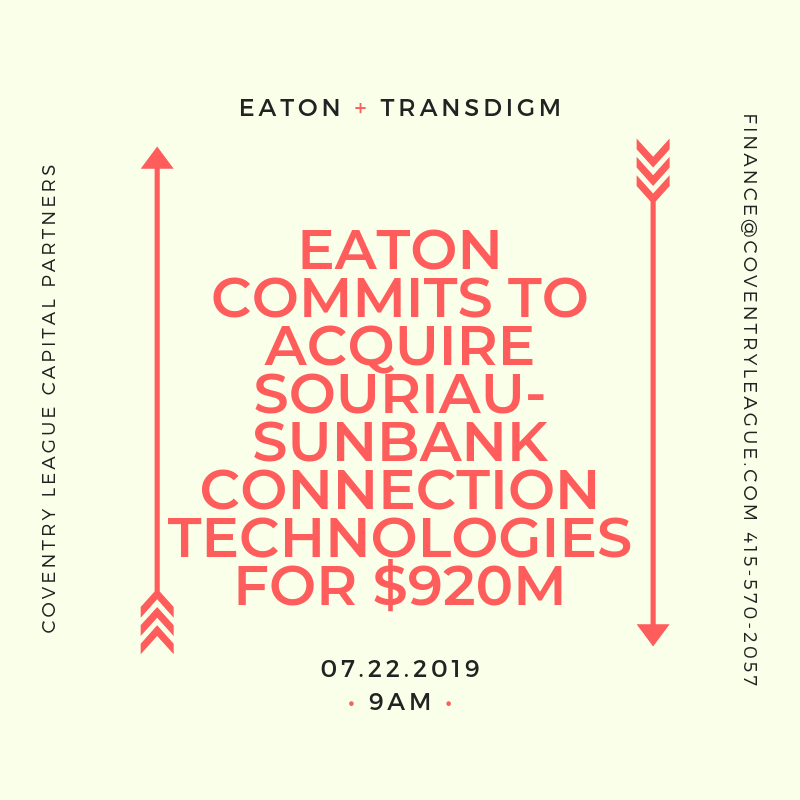 Key takeaways from Benzinga, Crain's Cleveland Business, and Seeking Alpha, which commented about today's M&A announcement concerning Eaton to acquire Souriau-Sunbank Connection Technologies, a business unit of TransDigm Group:
Power management company Eaton Corporation plc (NYSE: ETN) today (22 July 2019) announced it has committed to acquire the Souriau-Sunbank Connection Technologies business of TransDigm Group (NYSE: TDG) Incorporated for $920 million, which represents a trailing 12-month EBITDA multiple of approximately 12x.
The transaction is expected to close by the end of 2019 and be accretive to adjusted earnings per share in 2020.
Headquartered in Versailles, France, Souriau-Sunbank had sales of $363 million for the trailing 12-month period ending June 30, 2019.
Souriau-Sunbank is a global supplier of highly-engineered interconnect solutions for harsh environments serving customers primarily in aerospace, defense and space end markets.
TDG had acquired Souriau-Sunbank earlier this year as part of the Esterline Technologies acquisition.
Eaton is a power management company with 2018 sales of $21.6 billion.
Transdigm designs, produces, and supplies aircraft components in the United States and internationally with 2018 sales of about $3.8 billion.
And, if you want a handy little reference to some of the acquisitions and divestitures by Transdigm, then visit AeroWeb, a Forecast International subsidiary. It is a great Aerospace & Defense industry resource.