Possible Bidders for NASCAR
​Possible 
bidders include Marcus Smith
, president of 
Speedway Motorsports Inc.
 (NASDAQ: TRK). Insiders say Smith wants to make his own legacy in sports, separate from his father Bruton. While the Smiths had interest in buying the Carolina Panthers, the $2 billion-plus price tag was too much for them to become majority owners.
​
Comcast
 (NASDAQ: CMCSA) is also bound to come up, not only because of its sponsorship of the Xfinity Series, but because the idea of a media company buying a racing series for content is fresh in minds after 
Formula One was purchased by Liberty Media (NASDAQ: FWONA)
, which reportedly spent more than $8 billion in January 2017 to acquire Formula One. Also, 
Comcast is already one of NASCAR's 
most important partners, serving as both a media rights partner and title partner of NASCAR through its NBC Sports and Xfinity brands, respectively. NASCAR is such an important investment for Comcast that several people from the sport, including new NBC Sports broadcaster Dale Earnhardt Jr., were interwoven throughout NBC's Super Bowl pregame show this month. Many sources inside the sport believe that Comcast sees great value in owning the content and in its future distribution.
France Family's Dual Control
While the France family owns NASCAR, 
the vast majority of tracks utilized by NASCAR's three national series are owned by two publicly-held companies
 – International Speedway Corp. (NASDAQ: ISCA) and Speedway Motorsports Inc. (NASDAQ: TRK). Regarding ISC, Bill France Sr. started the company in 1953 to construct and manage tracks where NASCAR holds competitions. The France family controls about 74% of Combined Voting Power of Common Stock—Class A and Class B (Reference 
Form 10-Q
 for the quarterly period—Q1—ended 28 February 2018. Notes to Consolidated Financial Statements: 11. Related Party Disclosures and Transactions.). However, the France Family Group owns about 92% of the CLASS B COMMON STOCK as of 12 February 2018 according to a recent 
Schedule 13G filing
. At the end of this post is last year's 
Schedule 14C dated 07 March 2017
 (we will update with 2018's DEF 14C when it's available), which discloses primary shareholders of each class of common stock.
NASCAR & ISC Undervalued?
Moreover, the France family has been 
backing the notion that NASCAR is undervalued
 with their own money. According to the latest filings, the family increased its holdings by over 18,000 shares of ISC as of 01 May, boosting their total holdings to 225,710 shares worth $9.5 million (insider purchases via the France family trust: 2010 BJF DESCENDANTS TRUST B is 
here
).
​Meanwhile, Goldman Sachs has been selling. Filings show the bank reduced its holdings by  104,403 shares as of Q1 2018, down 52% from year end 2017. A snapshot of Goldman's trading is below; the 13F filings are here.

Crown Jewel: Daytona
The crown jewel of NASCAR and ISC is the Daytona motor speedway and the annual Daytona 500. The race track has undergone a huge renovation and the 500 sells out. The 500 is still a great brand. ISC, headquartered in Daytona Beach, Florida, like NASCAR, is operated in part by members of the France family – Jim France is chairman of the board while Lesa France Kennedy is CEO. Last month, 
NASCAR announced it was purchasing the Automobile Racing Club of America (ARCA) Racing Series
 headquartered in Toledo, Ohio in a deal that would be completed by 2020.
Merger Arbitrage & Valuation Thoughts?
One
Seeking Alpha researcher put together a bear case (January 2018)
–but expected valuations can change significantly in an M&A deal:
​
The bear case for International Speedway (NASDAQ:ISCA) is pretty simple. NASCAR is a declining sport. The benefit of contracted revenue increases from a 10-year TV deal is being offset by lower admissions revenue, leading to basically zero organic profit growth.
As such, ISCA should be worth no more than maybe 12-13x free cash flow – even lowering the near-term discount rate and assuming only a modest step-down in profits under a new deal.
That doesn't even include the fact that ISC's operating cash flow through 2021 is basically spoken for, with nearly two-thirds going back into the declining business at sub-optimal ROIC. (Notably, ISC spent $400 million to upgrade Daytona – for annual incremental EBITDA of just $15 million.)
Its forward EV/EBITDA multiple is a seemingly reasonable 8.3x
Financial Metrics

Notes: Principal Shareholders | DEF 14C Extract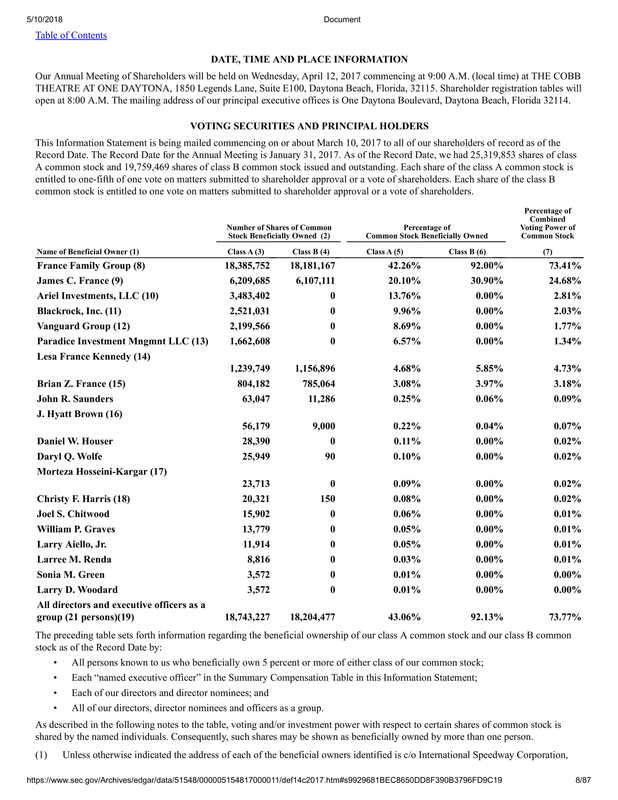 Update on M&A Status (16 June 2019):
Reference our recent post titled "Merger Arbitrage Secured: NASCAR Acquires Racetrack," which provides an update on the merger arbitrage status of all three companies mentioned in the comparable valuation table: International Speedway, Speedway Motorsports, and Dover Motorsports.
Here's a brief snapshot: