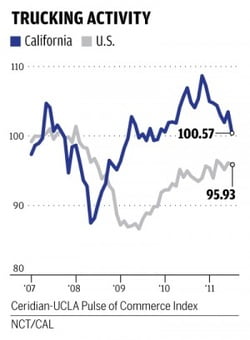 Truckin' – got my chips cashed in
Keep truckin – like the doodah man
Together – more or less in line
Just keep truckin on
— Grateful Dead, Truckin'
There are many indices to use to gauge economic activity and Coventry League tends to gravitate to proprietary and idiosyncratic ones. 
However, we incorporate established indices as well, including a trucking activity index as a leading indicator: Ceridian-UCLA Pulse of Commerce Index, or PCI. 
Essentially, a unit of Ceridian manages payment cards that trucking companies and drivers use to, say, fill up their tanks with diesel. It measures diesel fuel purchases at 7,000 truck stops nationwide.  The big picture of the index is a measure of the flow of goods to U.S. factories, retailers and consumers.