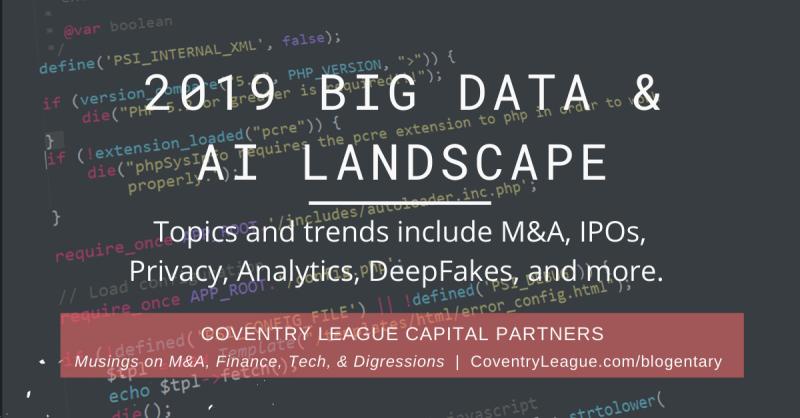 Last year we shared a blog titled "Go Big Data, Or Go Home!" that referenced the 2018 Big Data & AI Landscape by Matt Turck and his team at FirstMark, an early-stage venture capital firm based in NYC.
Well, below is the infographic of the 2019 Big Data & AI Landscape compliments of Matt Turck and his colleague Lisa Xu at FirstMark. Matt also shared it on LinkedIn and on his own blog, MattTurck.com. He and his team, again, provide access to a spreadsheet of all the companies in the infographic, and hundreds more.
About the 2019 Big Data Landscape
You may click on the above graphic, which will take you to the high resolution version. We encourage you to read the LinkedIn article from September 2019 titled "A Turbulent Year: The 2019 Data & AI Landscape" and visit the source posts on Matt's blog as they are a wealth of information and resources.
Topics in the Blog Articles
Topics for the 2019 Big Data Landscape include Consolidation, Regulations, and Privacy – including a variant of AI called DeepFakes (a portmanteau of "deep learning" and "fake"). The articles also highlight trends in Infrastructure, Analytics, and Applications.
Changes from the 2018 Big Data Landscape
The LinkedIn article lists many changes from the 2018 Landscape to the 2019 Landscape due to companies' going public (IPOs) and being acquired (M&A). It also highlights a lot of private investments in various companies. Here are a couple of examples:
Companies went Public
Several companies on the landscape went public. Crowdstrike (NASDAQ:CRWD) and Elastic (NYSE:ESTC) reached big valuations at IPO time – $7B and $5B, respectively. Other IPOs included PagerDuty ($1.8B), Anaplan ($1.8B), and Domo ($500M).
Companies were Acquired
Some very large acquisitions occurred in the last year, including Qualtrics (acquired by SAP for $8B), Medidata (acquired post-IPO by Dassault for $5.8B), Hortonworks ($5.2B merger with Cloudera), Imperva (acquired by Thoma Bravo for $2.1B), AppNexus (acquired by AT&T for up to $2B), Cylance (acquired by BlackBerry for $1.4B), Datorama (acquired by Salesforce for $800M), Treasure Data (acquired by Arm for $600M), Attunity (acquired post-IPO by Qlik for $560M), Dynamic Yield (acquired by McDonald's for $300M), and Figure Eight (acquired by Appen for $300M).
Further Reading
Of course, you may read more about tech topics on Coventry League's Blogentary under the "technology" category. Also, check out the various tweets by the authors of the Landscape (two examples below to get you started):