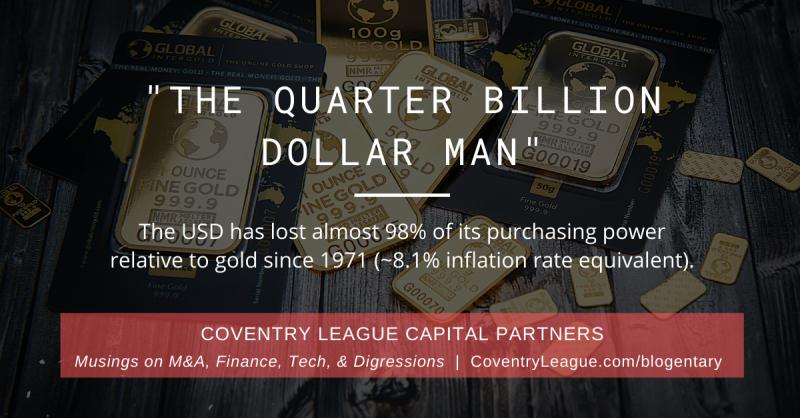 Back in the early 1970s some creative writers developed the concept and script to the television show, "The Six Million Dollar Man." If one were to appropriately name that show today, it would be "The Quarter Billion Dollar Man."
Wikipedia's Interpretation of Inflation
A quick glance at Wikipedia suggests that the $6 million dollars in 1971 would be equivalent to $35 million at the end of 2019. This implies an annual inflation rate of 3.75% and a loss of purchasing power of about 83%. However, if one compares this loss of purchasing power relative to gold, then the loss is significantly greater as is the implied inflation rate.
Back of Envelope Calculation
Back in 1971 a person could have converted his or her $35 into one ounce of gold. So, $6,000,000 could have been converted into 171,429 ounces of gold.
Fast forward to the end of 2019 and an ounce of gold required about $1,500 of paper dollars: $1,500 per ounce X 171,429 ounces of gold = $257,142,857 (A Quarter Billion Dollars). Another way to look at this is the paper dollar (USD) has lost nearly 98% of its purchasing power relative to the purchasing power of gold since 1971 (this is equivalent to an 8.14% inflation rate).
1971
2019
Change
Gold (USD/ounce)

$35
$1,500
42.86x or
8.14%/yr

Are we wrong?