Short Message Service (SMS) has been in existence since the early 1990s and still competes among an increasingly growing number of messaging systems used on mobile phones and some computers.
2 Reasons Why SMS Refuses to Die
SMS is not locked-in to a specific vendor.
SMS is a rough alternative to the Internet whereby people may still exchange messages, ideas, and hypertext links to just about anything.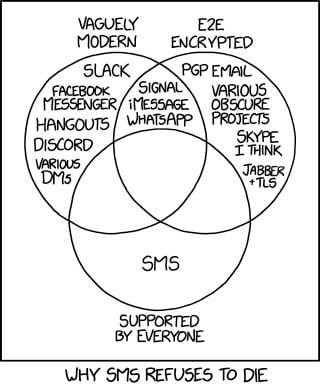 What's Missing?
What is missing from the Venn Diagram? Some say Internet Relay Chat (IRC), which would sit outside of the circles as an outlier.
IRC and Privacy-Oriented Alternatives
IRC–developed in August 1988, by Jarkko Oikarinen of Kuusamo, Finland–is a client/server networking model. Users download and install a program (the client) such as Pidgin locally on their computer (or in the "cloud" on a remote server). These client programs then communicate with "chat servers" to transfer messages and files to other clients.
Even though the usage of IRC has been in steep decline since the early aughts, there's still active use of IRC with the Pidgin client along with the Off-the-Record (OTR) plugin, which provides end-to-end encryption. As such, Pidgin is installed out-of-the-box on a privacy-oriented Linux operating system (OS) called Tails (The Amnesic Incognito Live System).
Closing Words
In closing and to paraphrase AC/DC, that Australian hard rock band, "SMS Ain't Gonna Die."1 "Rock and Roll Ain't Noise Pollution" is from AC/DC's 1980 album, "Back in Black."
So, what about you? Why do you think SMS refuses to die? What messaging system(s) do you use or recommend, especially ones oriented to privacy and security – and no vendor lock-in?
Let us know in the comments section and don't forget to follow us on LinkedIn, RSS, or by email alerts and check out other technology topics on our Blogentary.