As
Econgirl
and many economists stress, correlation does not imply causation.
Sure, our Dear and Loyal Readers might interpret our pontifications as harbingers of things to come and dutifully investigate further. Regardless, just because in March we highlighted more troubling signs concerning Moody's Corporation (NYSE: MCO), doesn't imply that said revelations caused the stock to plummet by 28%, from $30.23 (March 30) to $21.76 (May 11).  
We merely mentioned the behavior of savvy investors such as hedge fund manager David Einhorn at Greenlight Capital with respect to the investment attractiveness, or lack thereof, regarding MCO. Accordingly, the relationship between our revelations and the plummeting stock price is spurious at best.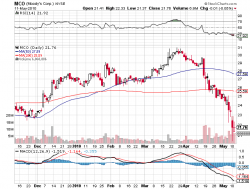 Nevertheless, some investors got a wake-up call after reading
MCO's 10-Q filed May 7
, or by reading more recent posts by Zero Hedge, published
May 8
and
May 11
, and
EconomicPolicyJournal.com
that the SEC is investigating MCO.
Here is an extract from its 10-Q (bottom of page 20):
"On March 18, 2010, MIS received a 'Wells Notice' from the Staff of the SEC stating that the Staff is considering recommending that the Commission institute administrative and cease-and-desist proceedings against MIS…"
Why MCO waited nearly two months to share this material information while Buffett was dumping shares is worthy of another blog post. Incidentally, didn't another of Buffett's investees, Goldman Sachs, also delay revealing its own 'Wells Notice' and other material information?
The opinion at Coventry League and elsewhere is Moody's may have difficulties as a going concern if the SEC enforces a cease-and-desist from being a ratings agency. In that case, some might want to paraphrase Friedrich Nietzsche: "Moody's is Dead."
__________________________
Note: MIS is an acronym for Moody's Investors Service, a reportable segment of MCO.