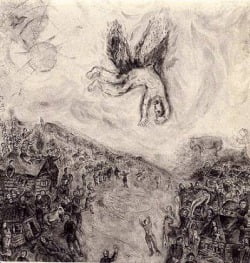 'The Fall of Icarus' by artist Marc Chagall
Two reports about strategic M&A and private equity were released recently.
Paul Weiss, a well-known corporate law firm, prepared a concise survey of the top 25 non-financial M&A transactions, highlighted at Research Recap here.  The report focuses on terms and characteristics.  However, a notable data-point is financial sponsors were nearly nonexistent (accounting for less than 3% of total value in the twelve-months ending July 2009).
The private equity summary was prepared by PitchBook, an independent private equity-focused research firm.  The report is updated quarterly and includes value, number, most active firms and sectors, among other criteria.
There were fewer and smaller transactions in comparison to peak 2006-2007 levels, with a reversion to activity during the last recession of 2001-2002.  For example, total number and value were down about 55% and 70%, respectively, from twelve-months ending June 2007 to same period of 2009.  Also, the median value for buyouts during 1H 2009 was $37 million, down from a 2007 high of $104 million.   
Still, private equity firms are originating and closing transactions, but some assert a competitive advantage has shifted to acquirers such as holding companies, strategic buyers, individual investor groups and fundless sponsors. 
The argument seems to reference smaller deal-sizes, less, if any, dependence on debt financing, longer-term investment horizons (some prefer to hold indefinitely), a focus on cultivating one or a few investments, and even a more personal approach with family-owned companies.
The implicit point to note about the ebb-and-flow of leveraged transaction volume is all that debt used to finance the record number of deals of yore (at premium valuations) comes due in the next 3-5 years. 
Ouch…