Where is all the ferrous scrap? Given the surging ferrous scrap prices, is this more of a supply or demand issue? Will we see robust price increases in the building materials end-markets from steel mills and fabricators?
Ferrous Scrap Jan 2021 Contract
According to this Yahoo Finance chart, the U.S. Midwest No. 1 Busheling Ferrous Scrap price was $450 per gross ton as of 15 December 2020.
Note, the price is based on delivery to a Midwest-based mill, which includes locations based in Illinois, Iowa, Indiana, Michigan, Northwest Ohio, and Wisconsin.
One may also access market prices of futures contracts in a table format provided by CME group, a leading derivatives marketplace.
Price Observations
Price is up nearly 50% in two months (Oct. to Dec.)
Price is up 145% from $184 in Oct. 2015, or 18.9% annualized
Industry Commentary
Here is a snippet from a post by Recycling Today titled, "Ferrous market booms its way into 2021."
The East Coast processor says that, as of mid-December, demand for ferrous scrap has very much stayed in place. "Domestic bids kept rising as mills couldn't get their fill. We sold domestic plate and structural at up $65 early in December but could get another $20 now."

Brian Taylor, Recycling Today
A team at Fastmarkets MB believes the price surge is a combination of increased demand and limited supply, according to its recent market bulletin:
Ferrous scrap prices in the United States are facing more upside in January, in a market where supply is trying to catch up with demand.

Lisa Gordon, Fastmarkets MB
On a more local level, for one example, Grapperhaus Metal Company based in Highland, Illinois is offering prices1 as of 15 December 2020 from $150 to $256 per ton.2 Under 500 pounds is at 50% of quoted rates. This provides an example of the other side of the trade for individuals and small businesses seeking to recycle their metal and ferrous scraps.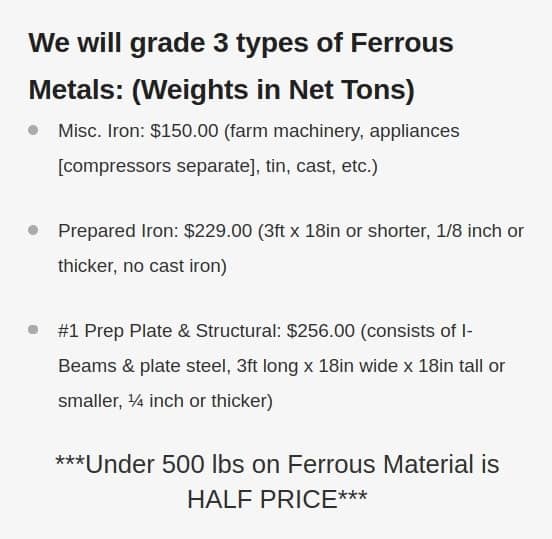 Closing Words
Given the surge in prices for ferrous scrap, do you think the market is topping out? Are you selling your scrap locally? What are the underlying dynamics driving this market, especially recently?
Let us know in the comments.