Why are people and businesses Flocking to Florida, as Catturd indicates, despite the hellishly-hot, swampy-humid summers (and high risk of Hurricanes)?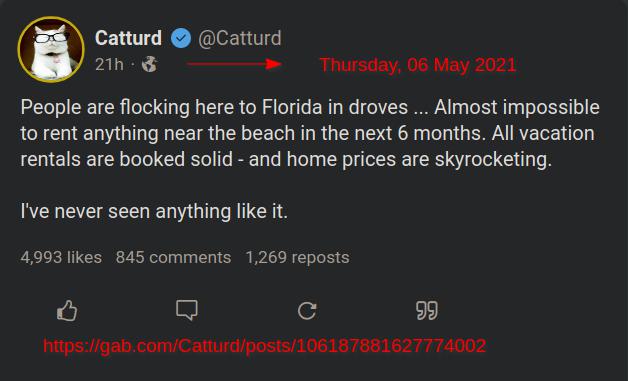 Top 10 Reasons For Flocking To Florida
Evidence and Data
So, how does Catturd's anecdotal evidence relate to state-to-state migration trends and states' population growth rates? Well, based on a couple of data sets that we highlight below, Catturd's comment seems quite accurate.
Descriptive Comparison Data
We glanced at two sets of data to glean trends about population migration and growth rates.
U-Haul's Migration Trends 2020
Per Florida Daily, "U-Haul calculates growth states by the net gain of one-way moves with U-Haul trucks entering a state versus leaving that state over the course of a calendar year."
The data's weakness: it doesn't account for the size (population, geographic, and existing infrastructure) of the respective states, so states with smaller 'size' such as Idaho, Utah, Wyoming, and such will be under-stated relative to states with bigger 'sizes' such as Florida, California, Ohio, and Texas.
The data's strength:
While U-Haul migration trends do not correlate directly to population or economic growth, the Company's growth data is an effective gauge of how well cities and states are attracting and maintaining residents.

U-Haul migration trends
U.S. Census Bureau estimates 2020
The data estimates year-over-year population growth by state (2019 vs 2020)
The data's strength: it provides the percentage change to a state's population.
The data's weakness: it doesn't account for migration, especially immigration. So states can still have positive population growth (immigration) despite experiencing a net loss (migration out) by long-time residents.
Table Data | Comparison
Below is the table data of U-Haul Migration Trends (net number of one-way truck rentals to/from a state) and Census Population Estimates (percent change, 2019 to 2020).
Note that the numbers in parentheses following the states in each column are the ranks of that particular state with respect to the second data set. For example, Florida is ranked number three (3) in the U-Haul Migration Trends and has the number nine (9) in parenthesis. The number nine references the rank of Florida in the Census Population data set (and vice versa).
Rank
U-Haul Migration Trends
(# of one-way trucks)
Fastest Growing States
(% of pop.)
1
Tennessee (14)
Idaho (30)
2
Texas (5)
Nevada (8)
3
Florida (9)
Arizona (5)
4
Ohio (36)
Utah (17)
5
Arizona (3)
Texas (2)
6
Colorado (8)
South Carolina (15)
7
Missouri (28)
Washington (36)
8
Nevada (2)
Colorado (6)
9
North Carolina (10)
Florida (3)
10
Georgia (11)
North Carolina (9)
U-Haul migration trends and population change by state in 2020.
---
Reconcile Anecdote to Data
So, is there also credence to Catturd's anecdotal evidence that people are flocking to florida to live and not just to vacation? The data indicates, yes.
Florida is ranked three (3) in the U-Haul Migration list and number nine (9) for population growth. The data also reveal that Texas, Arizona, and Nevada are more popular than Florida. Colorado has similar popularity to Florida. North Carolina is popular, but noticeably less so than Florida and Colorado.
Of course, Idaho's population is surging.
If one inspects the source data that we linked to in the section "Descriptive Comparison Data," one will find that Idaho's population increased by a whopping estimated 6.3% in 2020!
We encourage you to explore the linked data sources since they include several dynamic tables and infographics that enable a more granular perspective about these migration and population trends. Also, the infographic at PEW research shows estimated population change from just 2019 to mid-2020. It reveals that the governors of several states that issued draconian lock-down mandates, including California, Michigan, New Jersey, New York, Ohio, and Pennsylvania (among others), lost population during that brief period, to nobody's surprise.
Closing Words
Now you. What do you think the primary reasons are for people flocking to Florida, Idaho, Texas, Arizona, and Nevada (among others) and leaving places such as New York, New Jersey, Michigan, California, and several other states?
Let us know on our LinkedIn page, subscribe to our blog/M&A alerts, or leave a comment below (note: submissions are delayed for a day or so to screen-out the robots).