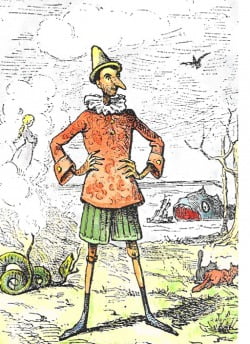 Pinocchio by Enrico Mazzanti (1883)
As mentioned in our previous
blog
, there is an article in today's New York Times Magazine titled
My Personal Credit Crisis
, summarized
here
, which relates to the topics discussed previously.
The subtext of the article touches upon universal themes of human nature, on a personal basis and within a corporate environment.
Given the number of recent business mishaps and mortgage foreclosures, several people might relate to the author's circumstances.  The experiences he recounts demonstrate psychological elements relating to materialism and insatiability that contributed to the unwise use of liar loans, credit cards, and home equity advances. 
Yahoo! Finance's TechTicker dubbed the story a subprime borrowing nightmare.
Well, perhaps Yogi Berra can best summarize the financial and housing crisis: "We made too many wrong mistakes."