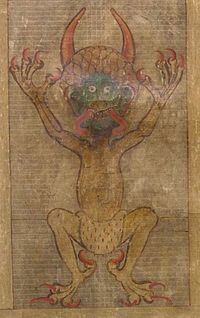 Depiction of the Devil via Codex Gigas
The allegedly intentional misdirection of language in an employees' stock options agreement demonstrates the lengths that some firms and managers might go to apparently mislead or gain an advantage over other people, clients, or employees.
For further reading about two perspectives regarding aforementioned behavior, then reference some of the links below by Felix Salmon at Reuters and Steven Davidoff at the New York Times .

Nevertheless, there are a couple of lessons that may help to mitigate perpetuation of unethical behavior, perceived or otherwise, by certain parties and individuals:
Lesson 1: The Devil is in the Details (ideally have an attorney vet one's important agreements, or read thoroughly and ask questions)
Lesson 2: Asynchronous communication: unethical behavior that becomes transparent to more ethical employees, potential employees, and limited partners (public pension fund managers, foundations, etc.) generally ultimately wields a high cost to the alleged perpetrators (e.g., Enron, Lehman, Allied Capital, et al.).
…………………………………………………………………..
Davidoff, Steven M. "
A Clash Between Venture Capital and Private Equity
– NYTimes.com."
Mergers, Acquisitions, Venture Capital, Hedge Funds – DealBook
. 06 July 2011. Web. 07 July 2011. <https://dealbook.nytimes.com/2011/07/05/in-silicon-valley-a-culture-clash-sullies-a-romance/>.
Salmon, Felix. "Downgrading Skype and Silver Lake to 'Evil' " Wired.com. 25 June 2011. Web. 07 July 2011. <https://www.wired.com/epicenter/2011/06/skype-silver-lake-evil/>. 
Salmon, Felix. "Skype's Options Plan and Silicon Valley Norms | Felix Salmon." Analysis & Opinion | Reuters. 07 July 2011. Web. 07 July 2011. <https://blogs.reuters.com/felix-salmon/2011/07/07/skypes-options-plan-and-silicon-valley-norms/>.