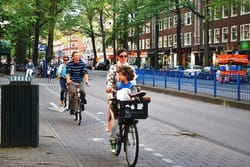 Amsterdam's popular mode of transportation
In today's blog post titled "
California Wakes Up To Another Record High Gas Price
," Zero Hedge writes that "gas stations across the country are seeing increasing price-sensitivity by drivers with lines at the 'cheapest' and empty lots at the priciest. It seems yet another weekend of hyper-inflating gas prices has pushed the until-now seemingly uncaring-at-the-margin gasoline-'user' to seek out rationally lowest prices."
Nevertheless, if you are seeking consolation, then note that gas prices are
much higher in Europe
.  In Amsterdam, for comparison, it costs roughly 1.90
euros
per liter (that's approximately $9.30
per gallon
).
So, what are some of the best bike friendly cities?  Well, Copenhagenize Consulting is glad you asked. Last year it created an index based on 13 criteria.  The inaugural ranking assessed 80 major cities worldwide and
ranked the top 20
.  Below is the top 20 list along with corresponding city data such as population, land area, and density compiled by Coventry League using Wikipedia (each city's page) and web research. You may download a
PDF version for free
.