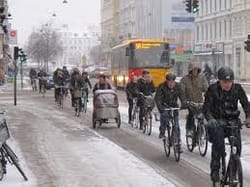 Rush Hour in Copenhagen, Denmark
Coventry League embraces bicycling as a healthy, sustainable form of transportation, so reading about bicycles' outselling new cars in practically every European country is encouraging.  Small Business Labs wrote a blog today referencing the article at NPR titled
In Almost Every European Country, Bikes Are Outselling New Cars.
Small Business Labs also provide some
additional statistics
and perspectives. For example, it mentioned that even in the U.S. bicycle outsold cars (18 million versus 14.3 million, respectively
). 
Also, last October Coventry League highlighted the Top 20 Bicycle Friendly Cities globally (Portland was ranked #1 in the U.S. and Amsterdam in the Netherlands was the overall #1 city).