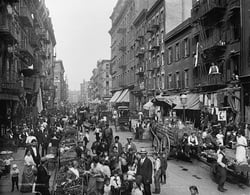 Mulberry St., New York, N.Y., 1900
We wrote about the
deflation versus inflation debate
last year, and provided a couple of perspectives regarding how to frame, or define, the terms: namely, changes in money supply versus changes in nominal prices.
Today, Stoneleigh at The Automatic Earth provides a better and more detailed explanation in her post titled "Inflation for the Innocent, Hyperinflation for the Clueless."
 "It is not reality that drives markets, but perception, which is emotionally-driven rather than rational. If we assume markets will behave rationally, we will be wrong-footed every time."
She also addresses the recent surge in commodities prices and acknowledges speculation, which is also described in this Bloomberg video about cotton hoarding in China.