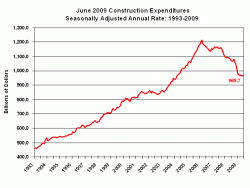 There are two software tracking applications of the federal government stimulus package (formally known as the American Recovery and Reinvestment Act).
One is the government's, found at
recovery.gov
, which is oriented towards taxpayers who want to know how their tax dollars are being allocated.
The other is provided by Onvia (ticker: ONVI), a Seattle-based public company.  Its application, found at recovery.org, is directed at businesses interested in bidding on projects, before it's too late to do so.  An Onvia representative stated the application is free to use, since it's a means to attract incremental customers to the company's subscription based data.  Fair enough, in our opinion.
Read more about it on GreenBiz.com's blog by Marc Gunther or listen to an interview with the CEO on reason.tv.