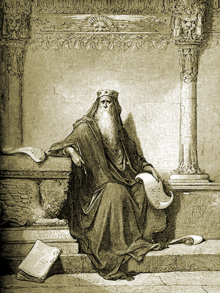 Ecclesiasticus by Gustave Doré; 1866
"Lend not unto him that is mightier than thyself; for if thou lendest him, count it but lost."
We saw a comment about this Bible quote on Dealbreaker:
"UBS cites a well-documented case from 377 BC to 373 BC to illustrate how the ancient Greeks learned that sovereign defaults occur in clusters. In that case, 11 of 13 states defaulted on loans from the Temple of Delos…"
The Dealbreaker, in turn, references a post today by The Globe and Mail.  Essentially, the blogs relate to a citation by Costa Vayenas, an emerging markets analyst based in Switzerland at UBS AG, concerning sovereign debt defaults – in that they tend to occur in clusters.
Incidentally, we have negative views on municipal and some other debt generally…and are selective on issues, if any, in which to take action.